Introducing the Consignment Corner!
Do you have gently used dog items (coats, crates, grooming tables, etc.) that you'd like to sell? Total Dog will provide a marketplace for you. Here's how it works:
You set the price.
Bring the **cleaned up** item to the store and we'll display it in the Consignment Corner.
We reserve the right to refuse items at our discretion.
When it sells, we must collect sales tax (that's over and above the price you set).
Out of your selling price, we keep a 10% fee (for example, if you set the price at $20, we would take $2 and you'd get $18).
We will contact you when your item sells.
You may take your payment in cash or as a store gift card!
---
'Tis the Season
This month of Thanksgiving we are grateful for our wonderful customers (well, we're grateful every month, but this month especially)!You can include your dog in your Thanksgiving festivities.  We carry all kinds of traditional Thanksgiving fare for dogs:  turkey, pumpkin, sweet potatoes, etc.
Coming for the Holiday Season
Thanks to Honest Kitchen we'll have a fun Holiday Photo Board set up in the store!
Have your dog pose with the board (stick his or her head through one of the holes and he or she will be either a reindeer or an elf—we'll help), and take a photo.  You'll have a cute, silly photo to add to your holiday card.  But that's not all…

Post the photo with the hashtag #thkholiday on Twitter, Facebook, or Instagram while you're at the store and you'll get some Honest Kitchen goodies (while supply lasts). PLUS you'll be entered in a random drawing for food or treats from Honest Kitchen. We should have everything set up by November 16, so be sure to stop by!
---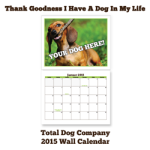 The First Annual Total Dog Company Wall Calendar is at the printer! We received lots of photo/story submissions. A neutral party selected the dogs for each month-plus one for the cover. Each of those 13 families will receive on free copy of the calendar!
Even if your dog is not on a monthly page, all submissions were included in a collage at the back of the calendar – everybody is a star!
The printed calendars are due in the store around Thanksgiving and make a great holiday gift!